Buying Off Plan & Conveyancing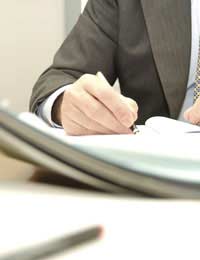 The conveyancing process for a new-build property can move along far more quickly than with an older property – up to a point. From reserving a plot to exchange of contracts can take no time at all and a buyer may find themselves committed to spending hundreds of thousands of pounds on what amounts to no more than an unfinished plot of land and a few piles of bricks.
During the height of the property boom buyers were falling over themselves to reserve unfinished flats and houses. However, in a housing market that has stagnated, the price of some new-builds has fallen more dramatically than the price of other types of property. Like new cars, new-build properties may depreciate almost immediately – the buyer pays a premium for something brand new. As soon as they move in it is no longer brand new.
Conveyancing and New Builds
When buying a new-build property off-plan, a buyer will usually be expected to exchange contracts within a few weeks of reserving the property. The property developer may need the cash deposit they receive at exchange to carry on building. The buyer than has to wait until construction of the property has finished before completion of the contract takes place. Having been rushed into exchanging contracts the buyer is than at the mercy of the builder – who may well have many other projects on the go at the same time.
What a Buyer Agrees to When they Buy Off-Plan
When buying off-plan a buyer is agreeing to buy the concept of a property based on the drawings, plans and any show home they may have viewed. The contract they agree to may include specifics about what the completed construction must include but it is always possible that what the buyer has in mind as representing their dream new home may not quite match what the builder thinks he has to do to finish the job. Nonetheless, when they exchange contracts, the buyer is committing to pay a fixed price for the finished product.
Once the main construction of the property has finished the builder will issue a written notice to the buyer. This requires the buyer to complete the sale within the time stated in the contract – which may well only be 10 working days. During this time any last-minute checks and valuations should be carried out and the completion monies paid.
What Happens if the Off-Plan Buyer Does Not Want To – or Cannot – Complete?
Some observers believe that the price of many new-build properties was over inflated, even relative to a generally over-inflated market. This has been reflected in some property developers trying to off-load unsold housing stock at apparently hugely discounted prices. Therefore a property may be worth significantly less at completion than it was when contracts exchanged.
After the financial crisis, mortgage lenders became generally much warier about lending money on a new-build. During the worst months of the economic downturn some developers were forced to stop work on developments, resulting in an even longer time lapse than usual between exchange of contracts and completion. In the meantime the financial landscape has changed dramatically: prices have gone down and lending criteria have become much stricter. Many mortgage offers are only valid for six months. Therefore, it is quite possible that a buyer could lose their mortgage whilst waiting for the property to be built and then find that they are in a much tougher lending environment when it is time to come up with the completion monies.
If an off-plan buyer finds that they are no longer able or willing to complete on the sale of the property they face two major problems:
They will almost certainly lose the deposit they have already paid
The builder may take them to court to recover the difference between the price the buyer agreed to pay and any price for which the property is subsequently sold – plus damages and legal costs.
By failing to complete on the sale the buyer has breached the contract and, in starkly legal terms, the builder will almost certainly be entitled to recompense for this.
It is possible that the contract entered into may contain terms which the builder himself has breached which could amount to a defence – or at least a bargaining tool – in any subsequent dispute. However, any erstwhile buyers who find themselves in this situation would be wise to seek legal advice before concluding that they can simply walk away from a bad decision.
DIY CONVEYANCE IS FOR SALE.
This website is for sale [more info].
You might also like...