Budget Properly for Your House Move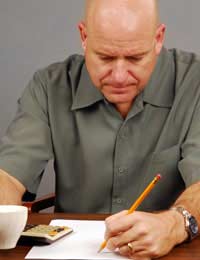 It's all Money, Money, Money
One of the first things you need to do, if not the first thing before you buy a house, is to find out how much money you are going to need. There is not necessarily a way of how to do it cheaply, but this should help you get things straight in your head (and on paper) so you can get down to being excited about your new home.
So, let's assume that you are buying a £100,000 house and you are having a 95% mortgage. On that basis you will need £5,000 for your deposit but have you thought about everything else?
A Few Things to Get Your List Started
Survey fees - This will be charged and arranged by your mortgage company but it might not cover everything you need it to. Should you be getting an additional survey done?
Mortgage arrangement fees -this could be added to your mortgage but you'll be paying interest on it for the next 25 or 30 years!
Total conveyancing costs - having read the small-print it might not hurt to keep an extra couple of hundred pounds aside - just in case!
Removal costs - Do they charge extra for waiting or storage if it all goes wrong on the day? It might be an idea to allow some extra money.
Utility and Phone connection charges - Its not just that you simply call them and hey presto you have an account. Check all this out before you get the keys and get the name of the person who gave you the information.
Emergency decorating - When you viewed the house it was full of furniture. These things can, and probably will, hide a multitude of sins. We all know what the wall looks like when we take pictures down! This will happen in the home of the neatest, cleanest, non-smoking, anal retentive in the world, so, prepare yourself for a shock when you finally move in.
Why is it so cold in here? Just because the house was lovely and warm when you viewed does not mean that the heating system is in tip-top condition. For all you know it may be held together with parcel tape and left on constantly because the owners are terrified to switch it off. Arrange for someone to inspect it tell you how much it is going to cost to stop it exploding.
Your first shopping bill…… It will be huge. Try going around the store you usually shop in, and listing the items you will buy on a monthly and weekly basis. This way you should be able to make sure you can afford to eat!
What About Long-Term?
Now, that just dealt with some of the costs you may face immediately before and after you get the keys. What about the next 2 months or 4 years? Once you have thought about the moving costs and living costs of the house (mortgage, insurance etc), don't forget all the things you already pay out for. These payments will not stop just because you have additional bills to pay.
And Finally
Okay, so after reading all that you have worked out that, with a bit more saving, you can buy your new home. Well done, you are in a better position than a lot of people.
One more tip, try not to be tempted to cut corners. When it comes to moving into a new house, whether it is your first or nineteenth move, there are always things that you didn't expect to have to pay for.
This has covered the basic areas but an exhaustive list would end up like War and Peace. The point being that you should make sure that you are prepared for every eventuality, and then add some more to the pot, just in case. If it isn't needed, and hopefully it won't be, then you will have the cash for that pair of horribly expensive curtains you fell in love with.
Make sure you also allow yourself a bit of money to treat yourself and for any unexpected bills! It doesn't need to be anything big, a night out, a weekend away or saving for a holiday. After moving into, and decorating, your new home you will need a break!
You might also like...