Avoiding Stress When Moving House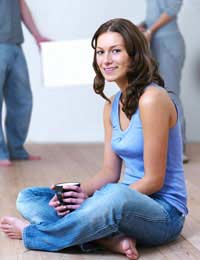 One of the biggest problems I faced during 10 years as a Senior Conveyancer was dealing with stressed out clients - who had no reason whatsoever to be stressed in the first place. I know what you are thinking - "It's all very well you sitting there and telling me not to stress out but I'm the one that's moving!". In answer to this I would say - correct, I am not moving house at the moment but I have moved, several times in fact, and every single time I made a point of not getting stressed about it. Now consider the fact that I, of all people, know every single thing that can go wrong - if I can stay calm with all that knowledge, so can you.
It's Quite Easy Really
Let's look at moving home as a part of the general progress of your life. There are various things that you will experience before you shuffle off this mortal coil - do you want to look back and realise that you spent a good chunk of your time stressing because you were changing address?! Let me put some perspective in it - you are not dying, you are not donating a kidney or preparing to scale Mount Everest; you are just moving house.
It is really frighteningly simple - you just need to make a conscious decision to stay calm, nothing that can go wrong is the end of the world or without a solution. Besides which; you are paying a large portion of your budget over to a CONVEYANCER to do the worrying for you.
Some Do's and Don'ts.
Do find a Conveyancer you can work with, you don't have to be life-ling buddies but if you can talk to them it will make life so much easier.
Don't be afraid to ask questions if you don't understand - nobody is put on this earth with all the knowledge they will need and there is no shame in asking for an explanation.
Don't listen to 'advice' from anyone except your Conveyancer, this will only lead to confusion and, yes you've guessed it, stress.
Don't let anyone bully you into fixing a moving date - if you can't do the date they want then another date will have to be agreed. Stand your ground.
Don't decide at the outset when you want to move; let your Conveyancer tell you when the entire chain is ready. You may be setting yourself an impossible goal.
Do let your Conveyancer do their job; they are trained to do it and you will move as soon as they can reasonably arrange it.
Don't book anything (removals, holiday etc) until you have been told that you have EXCHANGED CONTRACTS, there is a strong chance you will have to change it all.
Do trust your Conveyancer to do their job - remember; they won't get paid unless you move so it in their interest to do it correctly and as quickly as is legally possible.
Above all - be patient. Phoning your Conveyancers office on a daily basis will do nothing for your temper; these things take time and you must rely on your Conveyancer to tell you when and if anything happens.
It may not be popular to say it but the biggest stress my clients are under is one of their own making; they listen to the ESTATE AGENT telling them the position, when the Agent was probably selling mobile phones 6 months ago; they make arrangements with their buyer and seller without speaking to their Conveyancer and then get angry when they have to make new arrangements or, shock horror; have to wait for their Conveyancer to tell them when arrangements can safely be made.
This may all sound fairly obvious but, believe me, I had to deal with hundreds and hundreds of clients who forgot these simple points and ended up turning their own move into 3 months of living hell for everyone involved.
You might also like...