Behind the Scenes in a Conveyancing Transaction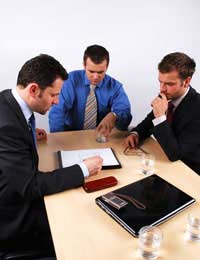 You may have a mental image of musty files piled on the floor of your Conveyancer's office, alternatively your Conveyancing firm may be incredibly modern with hi-tech equipment littered everywhere. The reality is probably somewhere in between as there is no such thing as a paperless office!
The traditional system
Traditionally your matter would have been handled by a minimum number of people, with one Solicitor or Conveyancer being in charge of the files, assisted by one or two secretaries. Some smaller firms and Conveyancing departments still run this method.
So at any one time, no more than two or three people would have intimate knowledge of your file, it also means that, you know who you need to speak to and that they will know exactly what is happening without referring to any computer database or third person. On the downside, it also means that if neither of these people are available, you will have to wait to have your query answered.
The pyramid system
The new method spreads the responsibility for each file over a greater number of people. The people work in teams headed by a 'Title Lawyer'; this could be a SOLICITOR, LICENSED CONVEYANCER or Senior Conveyancer. The Title lawyer will deal with the major aspects, checking the title, cross-referencing your mortgage and making any major decisions.
Underneath the TITLE LAWYER there are 'Case Managers', these are the people you will deal with on a daily basis, they will have knowledge of the day to day running of your file, but not necessarily the legal expertise to answer your queries straight away. The positive point of this is that they should be available to you more readily and it is unlikely that they will try and baffle you with legal jargon. It will also mean that there all of these case managers will have a hand on your file at some time, it relies heavily on each thing done being noted or the next person to pick up the file will not know the latest.
At the bottom of the pyramid will be a pool of secretarial support making sure that letters are typed and sent, messages are taken and that generally everyone knows where they are at any given time.
No matter which system your Conveyancers use, there are always going to be times when you are not sure what is going on. It is up to you to chase your CONVEYANCER and it is their job to make sure that you are fully informed. Remember, you are paying them; therefore if you feel that you are not getting the service you deserve, tell them. Let them explain to you why there is a delay or why your call has not been returned. It has been my experience that clients are happiest when they are informed at every possible stage, even if the news is bad.
Clearly this article is too short to give you step by step on what is happening in your SALE or PURCHASE, I am just trying to give you a picture of the office structure.
One more thing
As much as you may wish it to be true, you are not the only client. Despite what you may think about the fees you are paying, Conveyancing is not a money-spinning business; so they have to take on a volume caseload to be able to make ends meet.
Think about it this way; imagine you command a fleet of 70 ships, they each have their problems, but you need to get all of them to their destination as quickly as possible and problem-free. How would you deal with it? The one that is about to sink will get the most attention until it is afloat again, but what of the rest? You can't just leave them to get worse, you have to be able to split your time effectively. Unfortunately there are times when some of the ships will have to be left to float by themselves until you can get to them.
This is the way Conveyancers in a high-volume firm have to deal with it. If nothing much is happening on a file at that time then yes, it will get left while they deal with the urgent matters. In an ideal world every client, AGENT, MORTGAGE BROKER etc would get a daily call to say something or nothing has changed, but this just isn't practical. Hence, you need to be prepared to wait for something to happen.
You might also like...