Restrictive Covenants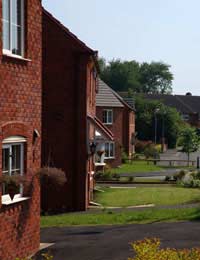 A covenant is essentially a promise to do, or not do, something on or to the property. A restrictive covenant is as it sounds; you are restricted from doing something.You can also get positive covenants which tend to require you to do something but they are not the subject of this article.
Why Are They There?
Basically because developers like their new estates to look a certain way for as long as possible - it looks good on their advertising literature - and as they have to adhere to certain planning restrictions; you have to follow them too. This does not mean that only developers can use them, anyone selling land can impose restrictions on its future use.
What Sort of Things Does it Include?
Basically anything! A land owner can put whatever restrictive covenants they want on the land they are selling to you, but they have to be reasonable and capable of being adhered to.
The majority of covenants tend to be imposed by house builders; the most common that I came across included:
Not to cause a nuisance to your neighbours - so blaring music and wild parties every night are not a good idea.
Only to keep domestic pets - this means that you can't have a herd of wildebeest in your back garden!
Not to run a business - if your business is inconspicuous and doesn't cause noise or air pollution (e.g. running a mechanics business) and there will not be a stream of customers blocking up the parking spaces then you should be okay. If in doubt, speak to your Conveyancer or the developer themselves and get their response in writing.
Not to make any external alterations without the consent of the developer - this is the one that people fall foul of with alarming regularity. Sometimes this covenant is worded to say that you can't do it at all, even if you ask for consent, so be very careful and check the wording. If the clause requires consent then even if you just want to change a window or the fascia boards - you have to ask for permission.
This is by no means an exhaustive list; developers will make up covenants that are appropriate to the estate. It is up to you to make sure that you read them and abide by them. It will be no good to moan later that you didn't know about it - by signing the transfer you are confirming that you have read and understood everything in it.
Is There Any Way Around It?
Of course! The conveyancing world has managed to devise ways around most things that can crop up. It might well end up costing you more money but if it gets you moved then it could be a small price to pay. I am of course talking about indemnity insurance, which is a perfectly valid tool to stop a problem becoming a disaster.
The second thing you could do is apply to the developer (or original covenantor - the person that imposed the covenant) for retrospective covenant consent. This can be time-consuming, especially if the original developer is no longer in existence and your conveyancer needs to track down their successor in title. It can also be expensive as the developer has the right to charge a reasonable fee for their administration costs and to compensate them for the fact that you have breached their covenant in the first place.
If you are very lucky the original developer will have gone bust and have no successor in title which makes the covenant null and void. This means that you can forget about it. Unless the transfer has been worded to allow your neighbours to enforce it (known as mutally enforcable covenant); your conveyancer will be able to advise you if this is the case.
The third and final option (besides refusing to deal with it at all) is to ask the original developer to enter into a deed of variation removing the covenant completely. This is expensive, time-consuming and only appropriate where the covenant is worded to completely prohibit the action taking place (there is no mention of getting consent first). There is no guarantee that the developer will agree and if they refuse then you will have told them that you have breached the covenant -removing the possibility of obtaining indemnity insurance.
In Conclusion
Recent case law has made the enforceability of covenants an even more sticky issue than before and you must rely on your conveyancer - who will be an expert in these matters - to tell you what you need to do.
You might also like...