The Residential Property Lease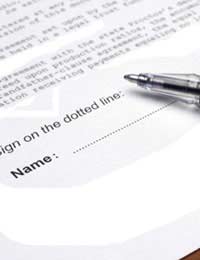 A lease is a legal document that grants the tenant exclusive possession of the property for a restricted period of time. This differs from freehold in that the occupier never owns the property, just the right to be in it.
A lease can run for any period from 99 years to 999 years, or even longer! Some shorter leases are also in existence but these are rare.
What is in a Lease?
Basically everything you need to know about the property (usually a flat or maisonette) including what you, as tenant, will be responsible for and what specific obligations you have. If I were to try to tell you everything the website would quickly turn into War and Peace, so I won't try.
What it HAS to Have
It must clearly define who the Landlord is and how much is to be paid to them in ground rent and service.
It must tell you who is responsible for maintaining the exterior of the building and the common parts (stairwells, driveways, roof etc)
It must tell you who is responsible for paying the insurance on the property
It will contain a list of rules to be observed by each tenant
It must define what rights you have over the other land in the title and vice versa
It must clearly define the term (how many years) and when the lease began.
This is not an exhaustive list by any stretch of the imagination; your chosen conveyancer will be able to tell you if the lease is compliant with any current law or guidelines and give you a detailed report setting out the major points. The fact that you have been given a report does not absolve you of the responsibility to read the document from beginning to end – you have to make sure that you know exactly what is in it and that you are happy with it, after all, your conveyancer may be willing to accept that you can't hang washing out of the windows but you may not. This is just one example of the stringent and detailed rules that will appear in the document – so you see why you have to read it.
The Lease Only has 40 Years Left, is that Okay?
As a lease gets older it becomes more and more unsaleable and unmortgageable, no-one in their right mind is going to buy a property that they can only live in for ten years and mortgage companies are unlikely to accept it.
As with everything there are ways around this: you could go to the Landlord and ask for a lease extension or, if you already own the property, you could go to the other tenants and, if a majority are willing, you could offer to buy the Freehold. Neither of these is a sure thing and it is likely that it will cost you a good deal of money. Alternatively you could ask the Landlord to grant a whole new lease when the old one expires – again this will cost you some money.
The Lease is Defective – Help!
If you already own the flat and a defective lease is preventing the sale then you should go to your previous conveyancer and ask them to deal with it, this is not always guaranteed as the law changes almost daily and the lease may not have been defective when you bought it.
In most cases it is possible to obtain indemnity insurance to cover the defect, it won't make it right but it will make the problem go away for a while.
Alternatively, you could go to the Landlord and ask them to enter into a deed of variation to correct whatever the problem was. If your Landlord is a registered social landlord, such as a housing association or Local Authority then it is likely that they already know about the defect and will help you. If the Landlord is private it might be more difficult. Your conveyancer should be able to tell you the best way forward.
My Conveyancer is Charging Me Extra – Why?
Basically because a leasehold property takes a lot more time to deal with. They are required to check both the Freehold and the Leasehold titles; they will also have to sit and read through the Lease itself. Add in the fact that they will have to enter into detailed and lengthy correspondence with the Landlord or managing agent and you have a transaction that will take longer than average and thus be more expensive.
This is why it is never a good idea to do your own conveyancing when you are buying or selling a leasehold property. Leases are complicated documents, the law changes all the time and there are more people to deal with – you don't need the headache, trust me.
You might also like...